The airport is located almost at the intersection of the M4 and M25 Motorways.
Most people arrive and depart by using the tube (subway) which connects directly to Heathrow.
A detailed road map is available here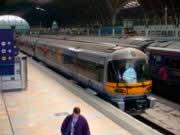 Public Transport
Heathrow Express: a non-stop service directly to London's Paddington station; trains leave every 15 minutes for a 15-minute journey. The Heathrow Express is also used for transferring people between the central area of Heathrow (Terminals 1, 2 and 3) and Terminal 4 which has its own station; use of this section is free of charge.
Heathrow Connect service to Paddington calling at many National Rail stations en route; as of December 2006 trains leave every 30 minutes for a 25-minute journey. The Heathrow Connect train stops at Heathrow Central for Terminals 1, 2 and 3, with free transfer via the Heathrow Express for Terminal 4.
London Underground Piccadilly Line with three stations (Terminals 1-3, Terminal 4 and Hatton Cross) and a further station opening in March 2008 (Terminal 5). As of 2007, the standard journey time from the Terminals 1-3 station to central London is around 40-50 minutes (for example, 48 minutes to Piccadilly Circus).
For the above three services, the faster the journey, the more expensive it is.
Long-distance coach service (bus)
Coach services are operated by National Express to various parts of the UK, including Victoria Coach Station in London. Heathrow Airport has one of the United Kingdom's biggest bus stations, with many local bus services (Transport for London) to nearby London suburbs.
Local hotels shuttle
A door-to-door London hotel shuttle bus service is operated by dot2dot from each terminal, and HotelHoppa buses connect each terminal with hotels in the Heathrow area.
Rail to UK Interior
There are four RailAir coach services connecting nearby railway stations with the airport using dedicated non-stop coaches. These run to:
Reading railway station, connecting with railway services to the West Country, South Wales, Midlands and south coast of England
Feltham railway station, for destinations on the South West Trains network in south-West London, Surrey and Berkshire, including Windsor (this has now been discontinued and replaced by the 285 bus service, as advertised on South West Trains)
Woking railway station, for places in Surrey, Hampshire, Dorset and Wiltshire
Watford Junction railway station, for Virgin Trains and London Midland services to Hertfordshire, Buckinghamshire, Bedfordshire, the Midlands, north-west England and Scotland